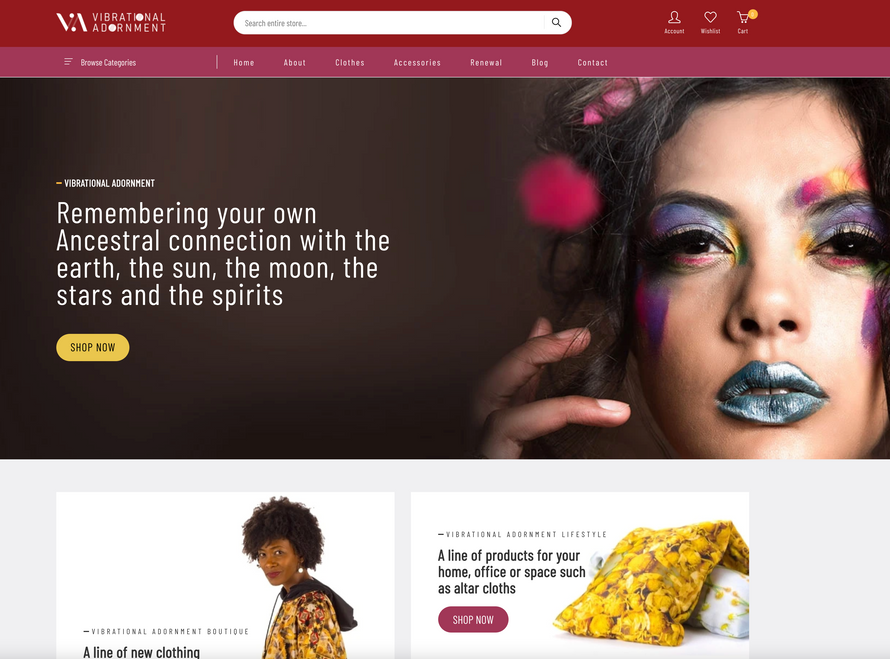 It has been a journey to rebrand. We appreciate your patience. We are happy to have a new logo and look coming with Vibrational Adornment. You will still find our Vibrational active wear, and our renewal garments (repurposed garments with our Vibrational fabrics up-lifting the vibe) as well as upholstered furniture and things for the home embellished with our fabrics.
@ShamanicChic on Instagram is currently hi-lighting BIPOC desingers in our stories to raise awareness to other designers. All garments in the "Transformation line" from Shamanic Chic will be available for order on our site.10% of sales from each garment goes to the model who premiered the garment.
Vibrational Adornment® is our new brand. It still has the heart and soul of our Fabrics which are always designed in ceremony with spirit and nature by designer and ceremonialist dami paternoster. Each print embodies the metaphysical and spiritual medicine of the plants, gems, animal, archetypes, vibration of place and of time.
"It's All About The Vibration"
This dress has energetics collected at the Alpine ridge of Mount Hood - the original Indigenous name of that mountain is Wy'East - land of the Multnomah - in Oregon USA. It combines the medicines of Alpine Borage, Glacier Lily, Alpine Usnea, Ponderosa Pine, Mountain Lion and Deer.
This print is available in several products:
https://www.shamanicchic.com/collections/all?page=3
Brand: Vibrational Adornment
Photographer: Tom Lupton
Model: Norma Alcazar
Studio: Cobalt Studios PDX
Jewelry: Pure Soul Holistics
MUA: Crystal Reynoso
Re-branding from Shamanic Chic to Vibrational Adornment

—

dami paternoster
Archive
November 2021
November 2020
October 2020
January 2019
April 2018