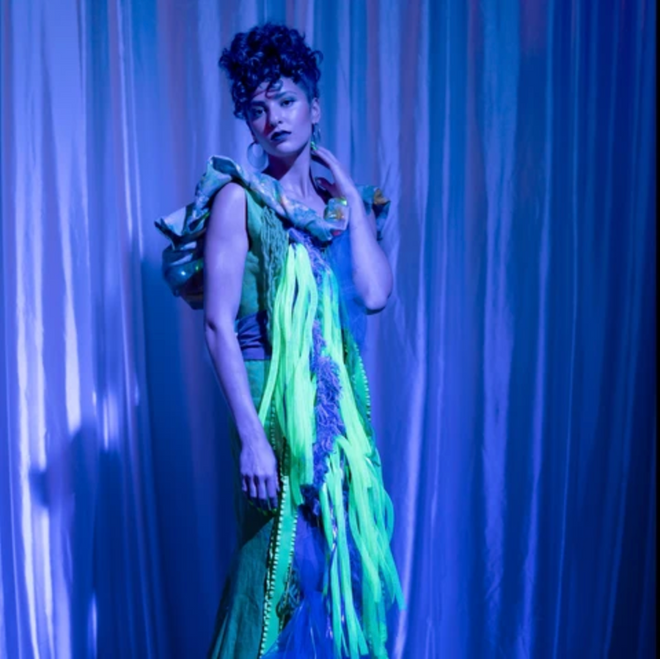 It has been a super busy year and I have learned so much. I have tried a lot of things and have an exciting direction forward.
This past year we were in 3 Fashion shows - I am so grateful.

In the Modifed Style show we won 2nd place for our collection made from repurposed fabrics. A great collaboration with Get Sushi Designs.
In the SHIFT Fashion show by the Right Brain Initiative, we also won 2nd for our Couture piece made from 25% of my Female Empowerment Fabric (the energetic medicines of  Rose of Sharon, Trumpet Vine and Culumnea from Costa Rica) and 75% recycled materials including electronics, used clothing, bike parts and more Another great collaboration with Get Sushi Designs
.

We were then asked to be on the platform for Wednesday night for the International show FashioNXt where we showcased one couture garment.
I was also asked to be in the Incubator program this past year through FashioNxt where I was introduced to other designers and people in the industry as well as media people, business advisors and product development gurus. Thank you again FashioNxt and Bonnie and Tito for this incredible opportunity.

Currently, we are developing a line that will showcase on the FashioNxt Runway coming up this October in Portland. I am so grateful and excited to watch this unfold.
All of this exciting work, has pushed our release date back a bit but there is much to share with you. I look forward to seeing what you think. Thank you for your love and support and for your patience. 
-blessings
dami
What a Whirl Wind

—

Dani Ramsby
Archive
November 2021
November 2020
October 2020
January 2019
April 2018